AMPRnet Resources:
The official AMPRnet resources can be found below. Though you may find this website much more informative, particularly when it come to the Michigan AMPRnet in particular.
Michigan Packet Frequencies:
The following are Packet Radio Frequencies that are protected by the MARC (Michigan Area Repeater Council) are as follows:



From the MARC website:
======================

For packet operations, the following channels will be protected for coordinated operations.

2 meters
========
144.910, 144.930, 144.950, 144.970, 144.990
145.010, 145.030, 145.050, 145.070, 145.090
145.510, 145.530,          145.570, 145.590
145.610, 145.630, 145.650, 145.670
145.710, 145.730, 145.750, 145.770
147.540, 147.560, 147.580

(Note that 145.76 is *NOT* protected and also lays outside the RACES sub-band, so RACES should *NOT* have any Packet activity on that frequency.  ARES and general Amateur radio use is permitted.)


1.25 meters
===========
222.340 - 222.360 / 223.940 - 223.960  Repeater input/output
223.520, 223.540, 223.560, 223.580, 223.600
(Note that 223.4 and 223.44 are *NOT* protected, but are common Packet frequencies.)


70 centimeters
==============
-no frequencies are noted for Packet use-
(Note that the GL-Net 9600 baud backbone frequency of 445.6MHz is within the "Voice links" sub-band)


Band Plans for "Digital Communications"
---------------------------------------
903.00 - 906.00
915.00 - 918.00
1248 - 1252
1258 - 1260
1297 - 1300


More specific MARC Standards can be found here .
Where within Michigan various frequencies are being used, can be found elsewhere on the page.
Michigan AMPRnet Realtime Monitoring:
My favorite saying is "You Cannot Manage what you Cannot Measure", because without accurate information you have no idea how things are really operating and therefore cannot manage them very well. So long ago I (wb8tkl) wrote a Bash script that monitors every Hamgate and many Key Stations throughout the Michigan AMPRnet. It does this automatically once every 2 hours. The tests verify that the Hamgate is pingable via its Public IP address, is also pingable via its 44-Net IP address, and in many cases we also check to see how long the node has been up (has it rebooted recently) and how much Free Memory it has available. This last test is critical on the DOS-based Hamgates which have a very limited RAM resource.

The final report is pushed out to the webserver and made available to eveyone at the URL below:


Michigan AMPRnet Realtime Monitoring Report
How to get an IP Address assignment in AMPR.ORG (44.102/16):
In order to operate JNOS TCP/IP over the air, you must have an IP address assigned to you in the 44/8 address space. Here in Michigan that address would be out of the 44.102/16 space. Within Michigan each county has been assigned a number of /24 subnets (256 addresses each) for use by the Hams that live within those counties.

An assignment may look something like: wb8tkl.ampr.org 44.102.1.16

The address tells me that WB8TKL is in Washtenaw county (44.102.1) and his host address is 16. There is a Hamgate in Washtenaw county that acts as the default router for the surrounding area that routes for 44.102.1/24, so WB8TKL can expect that his packets can reach anywhere around the world via this gateway/Hamgate. So WB8TKL sets his route to 44/8 to gateway via 44.102.1.1 (the Hamgate address) and he also sets up a Net Route such as 44.102.1/24 to go out to his RF port so he can reach his fellow Hams on this subnet directly over RF.

But without an individual IP address, WB8TKL ain't gettin' nowhere! So one must be assigned. Use the tools below to obtain a proper IP address and Hostname assignment for your station.



Request an IP Address Assignment via the Portal.AMPR.Org web tool. Follow the steps outlined below to make a request for a Single IP (for a home station) or to allocate a Subnet (for a Hamgate). Dave N8IT will then process your request. He will email you for clarification or additional information if needed:
Go to PORTAL.AMPR.ORG with your browser and create an account, if you don't already have one
Click on Networks on the dark menu bar
In the blue table, select 44.0.0.0/9 UNITED STATES
In the next blue table, select 44.102.0.0/16 Michigan N8IT
Below the blue table there is a paragraph ending with 44.102.0.0/16, click on it.
You will now be presended with a form:
Under Network Details, set the Netmask requested to /32 for a single IP address request (home station) or /24 to request a subnet for a Hamgate/gateway.
Under Network Details, Type:, leave it set to End User
Under Connection Details, check the box next to Radio:
Leave all the other fields EMPTY
Describe your request in the Notes: box. Please note what Michigan County you are in (or what subnet you wish to be a part of)
Now click the SEND button
Dave N8IT will now manually process your request and email you the results.
The
Michigan IP Address Coordinator
is
David Wright - N8IT n8it@n8it.org
USE ONLY IF ALL ELSE FAILS
-- Request an
IP Address Assignment
in AMPR.ORG, and I'll (Jay WB8TKL) forward the data on to Dave N8IT. But try to work with the new IP Address Coordinator, it's not my job any more (grin).
JNOS & Hamgate Support Files:
Home JNOS stations are basically the same as a Hamgate, but do not require routing to the Public Internet nor do they use the ENCAP.TXT routing table. Only Hamgates require a static routable IP address on the Public Internet, this is because they are *required* to be reachable by every other Hamgate/gateway in the world. They do this by Encapsulating 44-net packets inside the payload of packets sent over the Public Internet. Hamgates *must* maintain a current copy of the ENCAP.TXT "route table" that defines a route to every other Hamgate/gateway in the world. Whew! Aren't you glad that your home station is so simple!?!?!? Here is a collection of files specific to each type of JNOS installation:
***** FILES USED BY BOTH JNOS & HAMGATE STATIONS *****
Download The Raspberry Pi-JNOS project installation documentation (PDF)
Or you may view the web-based Installation Manual
Download the Raspberry-Pi/TNC-Pi image (.zip 493MB from ares-mi.org website)
Download Raspberry Pi-JNOS for Raspberry-Pi/TNC-Pi (version 1.5 from jjmcd's personal site)
***** FILES USED IN JNOS HOME STATIONS *****
The "Standard" AUTOEXEC.NOS for JNOS running on DOS
The "standard" AUTOEXEC.NOS for JNOS on Linux (uses TUN0 between Linux and JNOS)
The access3.rc IP ACCESS firewall rules used in DOS/JNOS (can be ported to Linux/JNOS with some edits)
***** FILES ONLY USED IN HAMGATE NODES *****
Example AUTOEXEC.NOS file
Latest ENCAP.TXT worldwide routing table. (updated at 10am & 10pm ET)
Latest Michigan-Only MI-ENCAP.TXT routing table. (updated at 10am & 10pm ET)
Edits to Raspberry Pi-JNOS to convert it into a Hamgate
***** MISCELANIOUS *****
Latest HOSTS.NET
Latest DOMAIN.TXT
RIP routing updates via the ampr-ripd daemon, available at http://44.60.44.10/amprnet_docs
Frequencies Used Around Michigan:
Using the same frequency over a large geographic area, though this makes for a very easy network topology to deploy, carries with it the well-known drawback of the "Hidden Transmitter" problem. This is the case when Station-A can reach Station-B, but Station-C cannot hear Station-A directly. Thus, A and C tend to transmit at the SAME TIME because they both believe the frequency is clear. Sadly, Station-B in the middle hears BOTH A and C and NOTHING gets through because of the collisions. A nd C are "Hidden Transmitters" to one another.

So we employ the technique of using one frequency over no more than one or two neighboring Counties. Then that frequency isn't used again until two or three counties away. This helps to alieviate the Hidden Transmitter problem, resulting in far fewer collisions overall, and provides some protection from neighboring networks when brand openings occur.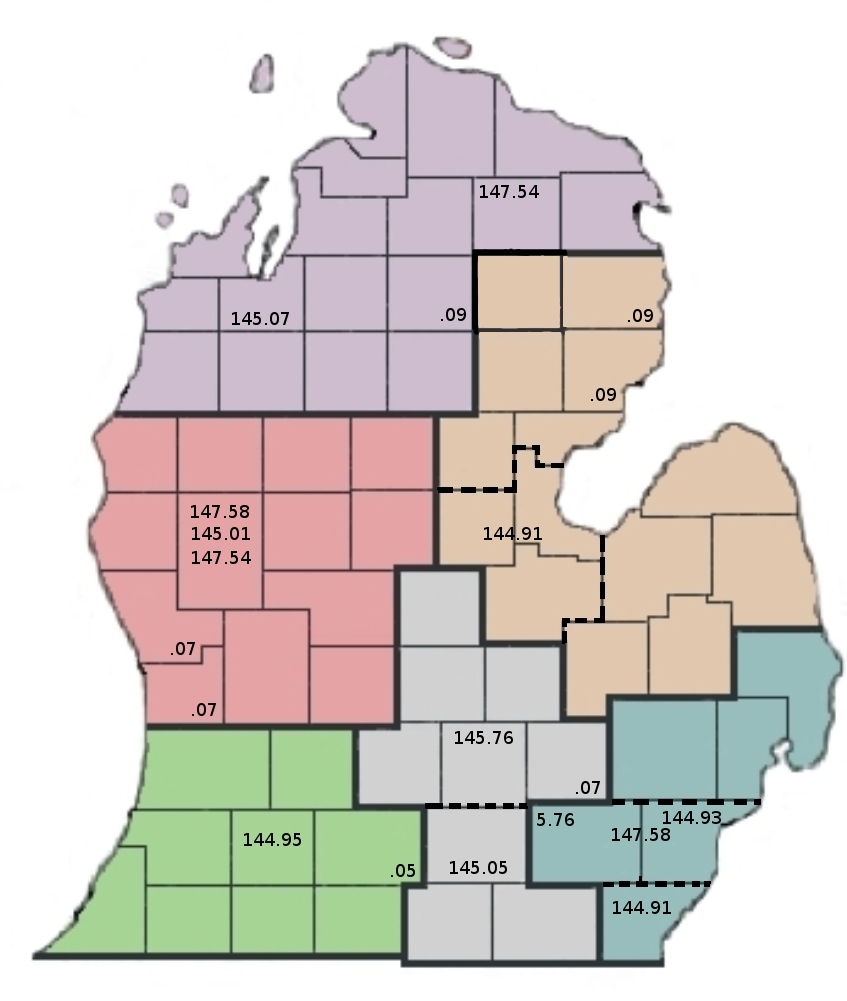 The map to the left is a bit out of date and several frequencies have changed since this map was produced. But generally it shows what Frequencies are being used in what parts of the State. The TEXT list below is much more accurate. All frequencies are AX.25 1200 bps half-duplex (Standard Packet) unless otherwise noted.

The following Frequencies are known to be in use in the following Counties:

144.91 MHz - Bay
144.91 MHz - Midland

144.93 MHz - Washtenaw
144.93 MHz - Wayne
144.93 MHz - Monroe

144.95 MHz - Oakland

144.97 MHz -

144.99 MHz -

145.01 MHz - Washtenaw 9600 baud

145.03 MHz -

145.05 MHz - District-1 South
145.05 MHz -

145.07 MHz - Antrim
145.07 MHz - Kalkaska
145.07 MHz - Grand Traverse
145.07 MHz - Benzie
145.07 MHz - Livingston
145.07 MHz - Leelanau
145.07 MHz - Ottawa
145.07 MHz - Muskegon
145.07 MHz - Manistee

145.09 MHz - Alcona
145.09 MHz - Iosco
145.09 MHz - Crawford

145.76 MHz - Eaton
145.76 MHz - Ingham
145.76 MHz - Livingston

147.54 MHz -

147.56 MHz -

147.58 MHz -





Hamgate Information & Key Stations:
Current Hamgate & Key Station locations as of October 2008
District
City
Hostname
Callsign
Internet Access (via telnet)
Notes
D1
Hell/Pinkney
Hamgate.Livingston.AMPR.ORG
N8BJX-3/-4
-none-
D1
Charlotte
Hamgate.Eaton.AMPR.ORG
N8HEE-3/-4
Hamgate.Eaton.mi-drg.org
Routes to SEOC
D1
Lansing
SEOC.AMPR.ORG
WC8EOC-0/-4
State EOC
WC8EOC/bbs WC8EOC-4/node
D1
Jackson
Hamgate.Jackson.AMPR.ORG
W8JXN-3/-4
On Air - but no Internet connection yet
D2
Dundee
WA8EFK.AMPR.ORG
WA8EFK-0/-4
[Section Manager]
WA8EFK/bbs WA8EFK-4/Node
D2
White Lake
NWSDTX.AMPR.ORG
K8DTX-0/-3
Sysops: KB8VNI & KF5X
D2
Macomb Twp.
Hamgate.Macomb.AMPR.ORG
N8HUL-3/-4
Hamgate.Macomb.mi-drg.org
D2
Ypsilanti
Hamgate.Washtenaw.AMPR.ORG
WB8TKL-3/-4
Hamgate.Washtenaw.mi-drg.org
D2
Ann Arbor
RedCross.Washtenaw.AMPR.ORG
WC8RC-3/-4
Washtenaw Red Cross
D2
Dearborn
Hamgate.Wayne49.AMPR.ORG
KA8E-3/-4
Hamgate.Wayne49.mi-drg.org
D2
Detroit
Detroit.AMPR.ORG
WU8C-2
High-Profile JNOS node
D2
Newport
BBS.W8GHZ.AMPR.ORG
W8GHZ-4
bbs.w8ghz.mi-drg.org
145.05 MHz
D2
Monroe
Hamgate.Monroe.AMPR.ORG
N8KJF-3/-4
Hamgate.Monroe.mi-drg.org
D3
Harrisville
Hamgate.Alcona.AMPR.ORG
N8AVX-3/-4
Hamgate.Alcona.mi-drg.org
D3
Oscoda
Hamgate.Iosco.AMPR.ORG
KB8RWG-3/-4
Hamgate.Iosco.mi-drg.org
D3
Oscoda
IOSEOC.AMPR.ORG
KB8RWG-3/-4
IOSEOC.mi-drg.org
Iosco EOC
D3
Midland
Hamgate.Midland.AMPR.ORG
W8KEA-3/-4
Hamgate.Midland.mi-drg.org
D3
Midland
WB8RCR.AMPR.ORG
WB8RCR-3/-4
WB8RCR.mi-drg.org
[Section EC]
[Section Traffic Mgr.]
D3
Midland
NTSMI.AMPR.ORG
Michigan NTS Traffic server
Collects traffic to:
zipcode|net_name@NTSMI.ampr.org
D3
Bay City
Hamgate.Bay.AMPR.ORG
(under construction - Due Winter '08)
D3
Bay City
RedCross.Bay.AMPR.ORG
KD8BKZ-3/-4
D5
Kalamazoo
Hamgate.Kalamazoo.AMPR.ORG
W8VY-3/-4
Hamgate.Kalamazoo.mi-drg.org
D5
Albion
Hamgate.Calhoun.AMPR.ORG
KB8OAK-3/-4
Hamgate.Calhoun.mi-drg.org
&nbsp
D6
Grand Rapids
Hamgate.Kent.AMPR.ORG
N8DPR-3/-4
Hamgate.Kent.mi-drg.org
128/24 subnet on 147.58
D6
Grand Rapids
RedCross.Kent.AMPR.ORG
WD8USA-3/-4
RedCross.Kent.mi-drg.org
129/24 subnet on 147.54
Access to QMN
D6
Grand Rapids
W8DC.AMPR.ORG
W8DC-3/-4
130/24 subnet on 145.01
D6
Zeeland
Hamgate.Ottawa.AMPR.ORG
WA8RSA-3/-4
Hamgate.Ottawa.mi-drg.org
HF port on 14.105
D6
Muskegon
Hamgate.Muskegon.AMPR.ORG
WB8I-3/-4
Hamgate.Muskegon.mi-drg.org
D7
Empire
Hamgate.Leelanau.AMPR.ORG
KF8KK-3/-4
Hamgate.Leelanau.mi-drg.org
Ties in with NetROM network
D7
Traverse City
Hamgate.GrandTraverse.AMPR.ORG
N7LMJ-3/-4
Hamgate.GrandTraverse.mi-drg.org
Under construction
D7
Grayling
k8mv.i2k.com
K8MV-2
k8mv.i2k.com
No ENCAP routing
D8
Houghton
Hamgate.Houghton.AMPR.ORG
At Michigan Tech
Under construction - due Fall '08
D8
Wallace
Hamgate.Menominee.AMPR.ORG
W9JTL-3/-4
Hamgate.Menominee.mi-drg.org
D8
????
Hamgate.Delta.AMPR.ORG
????-3/-4
-none-
On Air - but no Internet connection yet
D8
Moran
Hamgate.Mackinac.AMPR.ORG
WA8OOH-3/-4
Hamgate.Mackinac.mi-drg.org
NOTE: If you
telnet
over the Internet from a Windows box, you will find that the telnet client that Microsoft provides has been "embraced and extended" until it is now quite broken. Get yourself a
real
telent client by downloading
Putty
.
Realtime monitoring of the Michigan TCP/IP AMPRnet Network